Saint Thomas Barbados Property For Sale or Rent
Saint Thomas Barbados, property listings for sale or rent in Saint Thomas Barbados, listings by owner and agent.
Barbados Real Estate Listings

Sales, Rentals and Leasehold Property Listings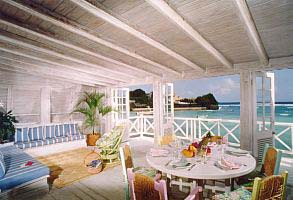 St Lawrence, Barbados, West Indies, Rental
Location
St Lawrence,
Property Type
Vacation Style Property
Bedrooms
N/A
Bathrooms
N/A
Price
$3,000
Saint Thomas is a parish of Barbados in the center of the island.

Barbados is a coral island, pushed out of the sea by volcanic activity in a far away time.

On the West Coast of Barbados, coral shore beaches of fine white sand stretch along a blue-green sea. Coral reefs fringe the Barbados shoreline to provide excellent snorkeling and Scuba Diving. Along the East Coast a lively surf is blown briskly by the strong and constant trade winds and the waves pound against a rocky shore. The constant breeze of the trade winds give Barbados a mild and pleasant tropical climate.

Property in St Thomas Barbados is highly sought after in the Caribbean, both for investment purposes and for those looking for vacation homes. Barbados is 21 miles long and 14 miles across and is the smallest island in the Caribbean meaning there are a number of restrictions as to the amount of properties available in Barbados.

If you are looking for a property in St Thomas Barbados try a property search in the property listings section where you can directly contact realtors and estate agents who advertise property in Barbados for sale or rent.


Barbados Quick Facts:
Capital: Bridgetown
Government: parliamentary democracy
Currency: Barbadian dollar (BBD)
Area: 431 sq km
Population: 279,912 (July 2006 est.)
Language: English
Religion: Protestant 67% (Anglican 40%, Pentecostal 8%, Methodist 7%, other 12%), Roman Catholic 4%, none 17%, other 12%
Electricity: 115V/50Hz (North American plug)
Calling Code: +1-246
Internet TLD: .bb
Time Zone UTC: -4
Caribbean Property Search
Popular Searched for Barbados Terms: