Master Bathroom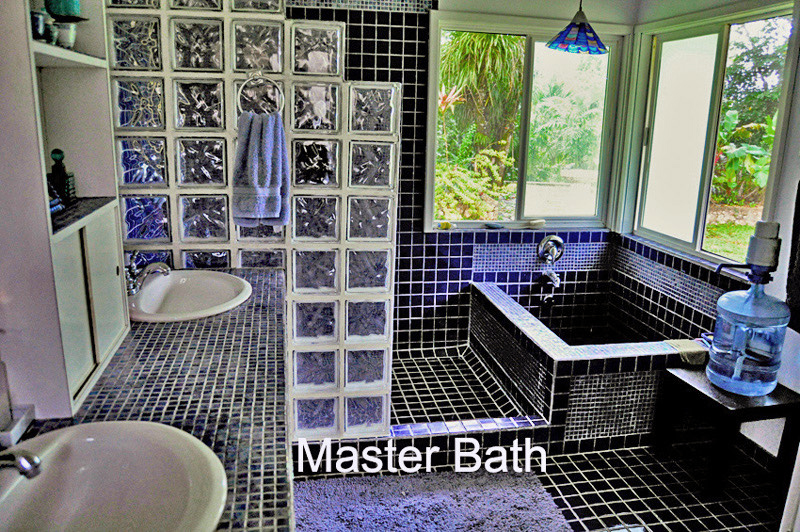 Guest Bedroom double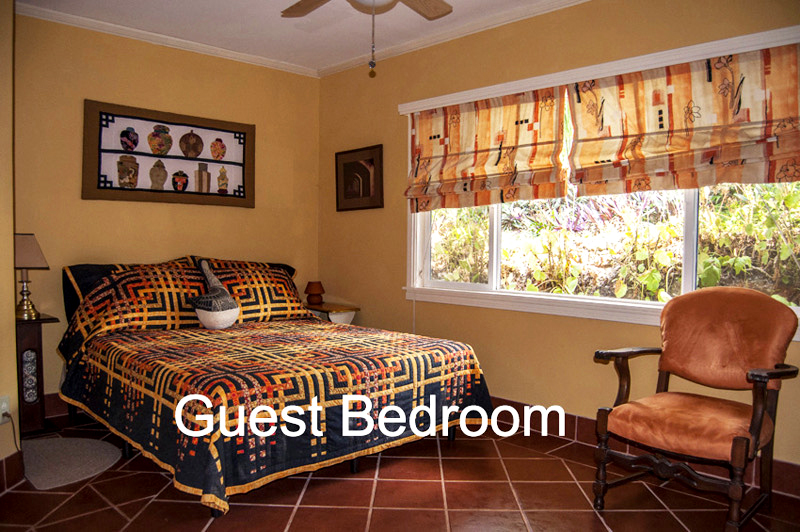 Guest Bedroom twin (Jungle Room)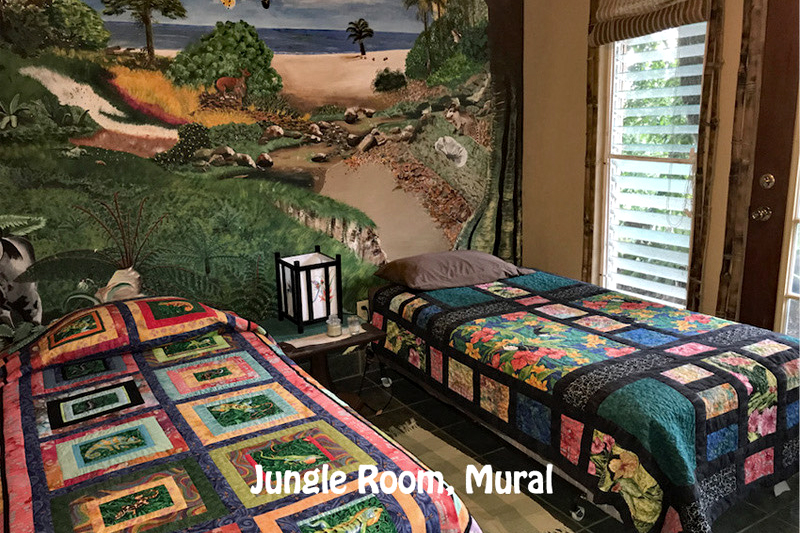 Guest Bathroom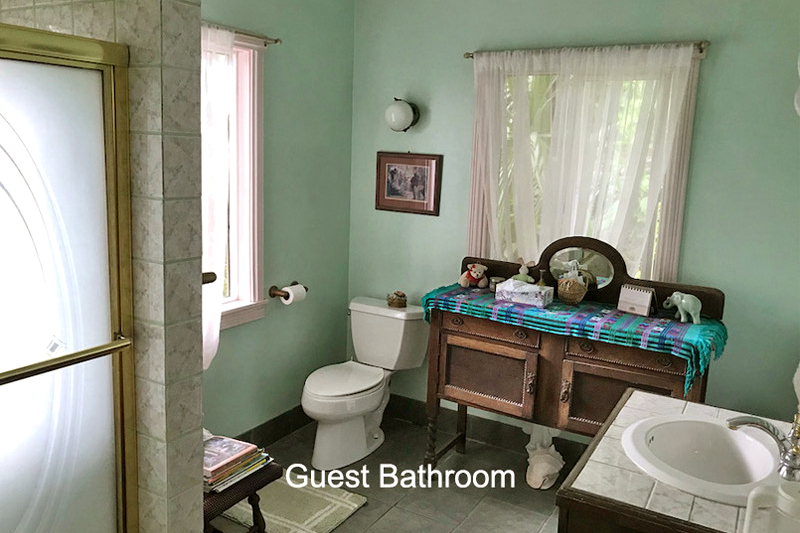 Office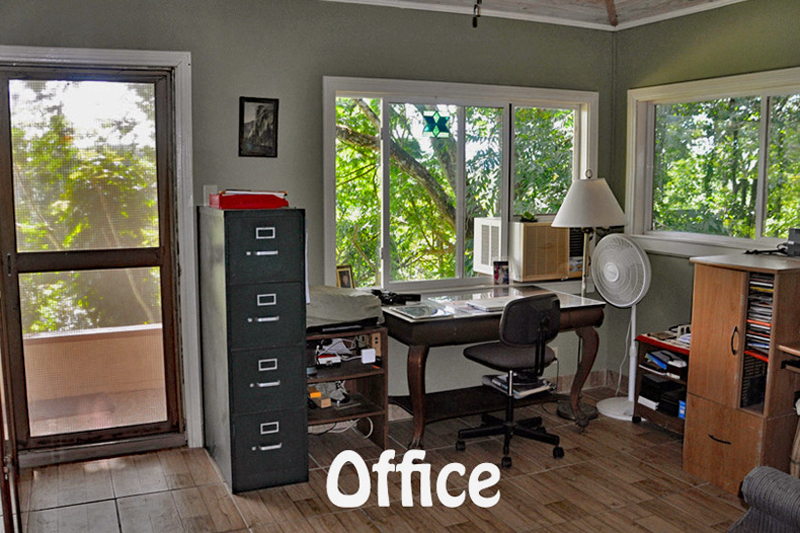 Pleasant Patio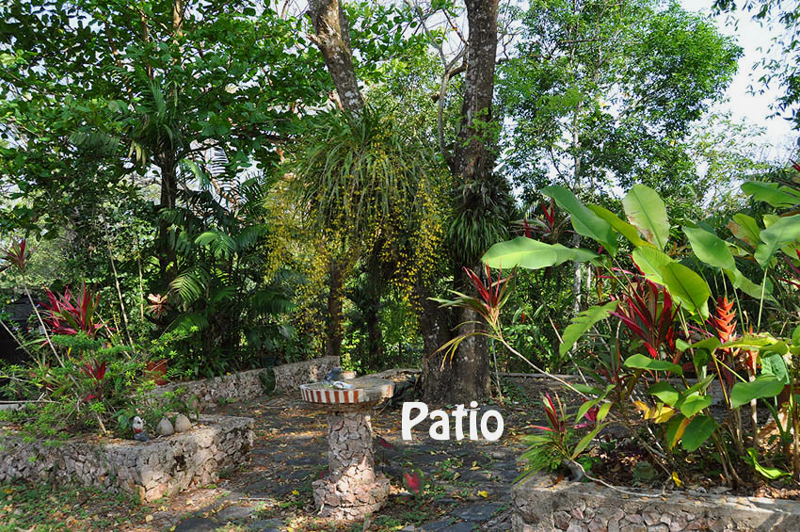 Dock on Belize Riverbank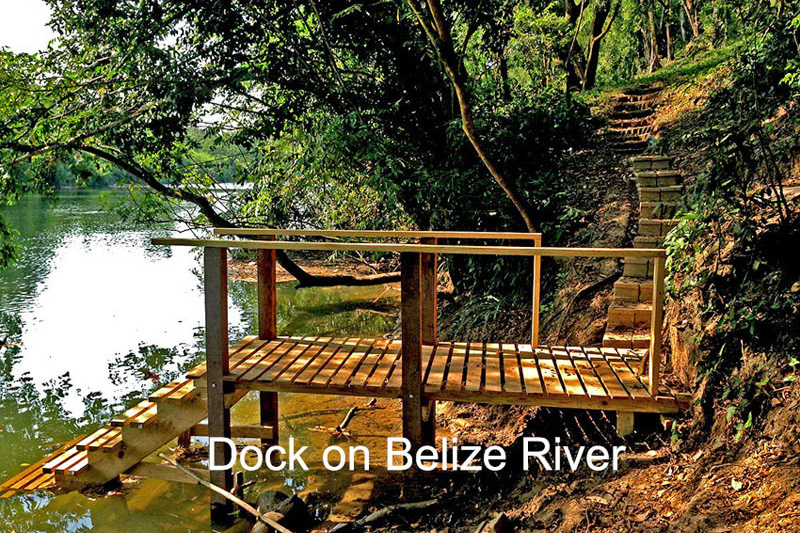 Google Map view Property Boundaries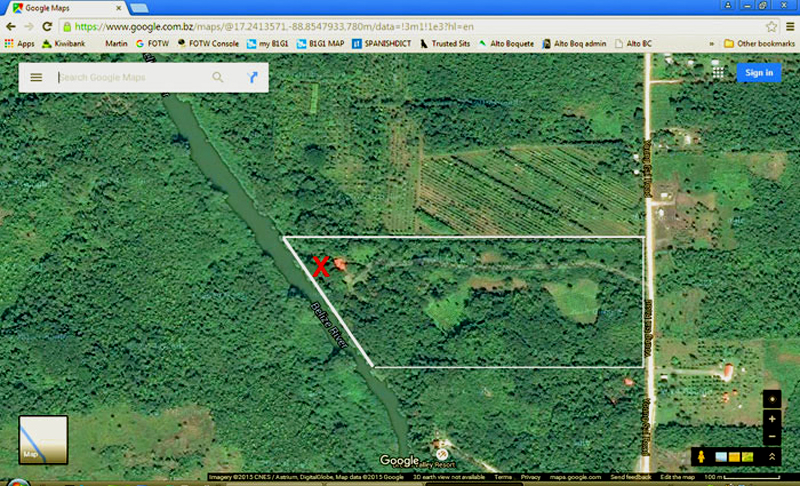 Location State/City/Town :
Teakettle, Lat. 17.14'27.35"N; Long. -88.51'20.92"W Cayo District
Property Style, Type or Category :
House
Property Terms:
'For Sale'
Location : Teakettle, Lat. 17.14'27.35"N; Long. -88.51'20.92"W Cayo District Belize
Established Home, 28 acres, River Frontage, Cayo, Belize, Central America $585,000
Imagine yourself living in a comfortable & spacious home perched on a hilltop overlooking the Belize River. You'll love the privacy and serenity of our secluded and secure location and excellent views of the surrounding rain forest. Abundant wildlife such as birds, monkeys and other animals will provide an unending source of amusement, wonder, and photographic opportunities. From the sidewalk outside our house, watch howler monkeys cross a rope bridge (see https://youtu.be/EpMd3OM5rQw) Hand-feed bananas to wild kinkajous (cute, cat-sized, raccoon cousins) from a feeding platform next to our house see (https://youtu.be/vPnW2r1_t40). Crickets and soothing river sounds will lull you to sleep and myriad bird songs provide a wake-up call in the mornings.
> Acreage: 28.369 (11.48 hectares), about one-half preserved as jungle and wildlife sanctuary and the rest is open to current and future crops.
> Spacious split-level, steel-frame home custom-built by owner for strength and durability. Area is 3085 square feet. Upper floor: master bedroom with adjoining bath and furo (sunken tub), sun room, lanai, office/library with A/C, exercise room, two-car garage with workshop. Ground floor: spacious dining area with 18-foot ceiling, modern kitchen, two guest bedrooms, guest bathroom, dry storage room, laundry/utility room, toilet & shower, and plenty of storage space.
> Belize River frontage is 908 feet (276.76 meters). Dock on river provides access for swimming, fishing and kayaking. Trails from the house provide routes to the river.
> Property tax (house & land) is very affordable, to say the least, BZ$289/yr (US$ 145)
> Chain link fence encloses 3 acres around house; ideal for dogs to roam.
> Utilities extend underground from Youngal Road to house (1/3 mile, 0.5 km) – no unsightly poles or downed lines. Utilities average cost/month is $BZ550 (US$225)
> Internet: high speed, wifi throughout home, more than 25Mb/sec service, BZ$115/mo (US$57.50)
> Our bed & breakfast (River Wildlife Sanctuary), which has been rated 5-star by our Airbnb guests, draws international visitors. We also enjoy home exchange opportunities involving many countries.
> Furnished: appliances include stainless steel refrigerator/freezer with ice maker; stainless steel upright freezer, washer, dryer (butane), water softener, refrigerator in garage, dehumidifier, on-demand water heater (butane) 5-burner stove and new oven (butane); and air conditioner in office (rarely used because fans throughout the house provide cooling).
> Large yard with patio, large planter, birdbath, and barbecue. Potential for swimming pool near patio. River frontage 908 feet (276.76 meters).
> Automatic gate opener
> Shopping within 1.5 miles in Teakettle and 7 miles away in Belmopan, where government offices are conveniently located. Several cultural, natural and recreational attractions are located nearby. International airport is 50 miles away.
> Golf course is 5 miles from house.
> Worker's house (2 bedrooms) located 1/10 mile (0.16 km.) from main house. Nearest neighbor is ˝ mile away.
> Birders' paradise — 328 species listed for our area. River Wildlife Sanctuary is an official birding hotspot and holds the total species record in the backyard birding competition for the months of April through October, 2020.
> Pitaya (dragon fruit) orchards (1.5 acres) produce about 1/2 ton of fruit/year, valued at US$1100. Groves of valuable hardwoods including mahogany and xericote (most valuable Belize hardwood) can be harvested and sold when they mature within a few years.
> Orchard contains avocados, sapodilla, mamee sapote, black sapote, sapodilla, Java plum, cashews, mulberry, cacao, over 100 passion fruit vines, and other fruits.
Property type: House
Parcel Size: 28.37 Acres
Price: $585,000
GPS or other ID: 17°14'28.7"N -88°51'21.2"W
PROPERTY FEATURES
Activities
Birding Hotspot
Canoeing/Kayaking
Hiking nature trails
Gardening
Harvesting fruit from orchards
Photography
Conservation
Wildlife observation
Fishing
Golfing
Waterfront
Waterfront: River frontage 908 feet
Dock
Adjacent Owner
Adjacent Owner: Private
Utilities
Water: Community
Electricity: On property, underground
Butane: On property
Services (Utilities): High-speed internet, cell phone
Waste: Septic tank
Views
Jungle
River
Mountain
Trees
Wildlife
Terrain
Terrain: Varied
House is 90 feet above river
Residence
Residence Type: 1.5-2 Story
Bedrooms: 3
Bathrooms: 2-1/2
Garages:1 two-car with workshop and weight room
Roof: corrugated metal
Finished Sq. Ft.: 3085
Total Square Feet: 3085
Storage: Plentiful
Home Age: 19
Property
Fencing: Encircles 3 acres around house
Road Frontage: Youngal Road, which joins main highway 0.7 mile from our palm-lined driveway
Road Surface: Gravel
Trees: Rich variety of jungle trees
Outbuildings: House for caretaker and family
Resources
Website URL: Click here
Howler monkey crosses rope bridge with her baby right outside our house: https://youtu.be/EpMd3OM5rQw
Young kinkajou eats bananas out of my hand: https://youtu.be/vPnW2r1_t40
Property Information
Sale Type: Fixed Price
About Richard Rasp
Youngal Road, Teakettle, Cayo District, Belize
Email: rarasp@gmail.com
Phone: +501-633-1716 (from US, 011-501-633-1716)
Location Maps (Opens in new window):

Price : $585,000 USD

1,170,000 Belize dollars



Contact Seller To Confirm Current Price.






---
This property has been viewed 337 times.

Share this property:
More Information about this property:
Year Built
2001
Type
House, &nbsp For Sale
Style
Split-level ranch
Exterior
Stucco Siding
Driveway
Concrete
Garage
Attached 2-Car
AC
Window Unit
Water
City/Public
Sewer
Other
Disposal
Yes
Dishwasher
Yes
Taxes
$145.00

| | | | |
| --- | --- | --- | --- |
| Avg.Electric | Avg.Oil | Avg.Gas | Avg.Water |
| $135.00 | $0.00 | $25.00 | $75.00 |
Acre(s) or Lot Size
28.369
First Floor Square Footage
1550
2ns Level Square Footage
1535
Total Square Footage
3085
Bedrooms
3
Bathrooms
2.5



| | | |
| --- | --- | --- |
| Investment Factor | Investment Yield % | Special Features |
| | | |
| Below Market Value | | Popular Location |
| | | |
| | | |
| | | |
| | | |
| | | |
| | | |
| | | |
Ask the seller about this property:
Complete the enquiry form to contact the Agent or Owner regarding this listing.

Please mention you saw the advert on The International Property Directory.

Property Type : House
Terms : For Sale
Site Id : 9808237
Tell the seller what you are looking for, why and when: (255 characters max.)

Type the characters in the image above (Case sensitive)
---
To Filter Results Use Our Advanced Search Here
or Go Back