Costa Rica Investment Property
The best place to start to discover how to find Costa Rica Investment Opportunities online.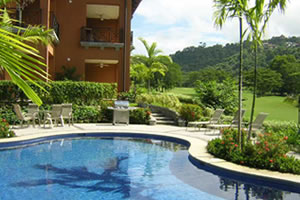 COSTA RICA

Costa Rian Luxury Real Estate
Location
Los Suenos,
Property Type
Luxury Condominium
Bedrooms
2
Bathrooms
2
Price
$480,000
Costa Rica Directory of Property
---
Are there restrictions for non Costa Rican nationals regarding investing into ownership of property within the country?
Foreign buyers have the same rights as Costa Rican nationals when purchasing and investing in Costa Rica real estate.
Regardless of your nationality you may want to consider holding title to your property through either a Costa Rican corporation ( "Socieclad Anonima" or "S.A.") or limited liability Company.
There are currently no capital gains taxes in Costa Rica on the sale of property or of the sale of the shares the S.A. or Limitada that owns the property as long as the seller is not in the business of buying and selling real estate, in which case he may be subject to Costa Rican income tax law.
Do buyers of property in
Costa Rica
need the assistance and advice of an attorney?
No, however it is recommend that an attorney to assist with the real estate purchase transaction in Costa Rica.
Does ownership of property in automatically qualify owners for Costa Rican residency?
No. if you are interested in obtaining official residency, we advise you to consult an attorney specializing in immigration matters. It is not necessary for you to obtain residency if your maximum stay in the country does not exceed the period specified on your tourist visa. After spending a minimum of 72 hours outside of the country, you will be allowed to re-enter Costa Rica and renew your tourist visa.
If looking to purchase property in
Costa Rica
it is best to source real estate online to connect with a Property Consultant who specialises in Costa Rica Properties and will guide buyers through the process.
If you are looking for Costa Rica Property Listings, or general
international Real Estate Listings
for sale and for rent start your search by looking in the
Costa Rica Real Estate Listings
section of this Directory.
COSTA RICA

South Pacific region of Costa Rica
Location
Costa Rica,
Property Type
Vacation Style Property
Bedrooms
N/A
Bathrooms
N/A
Price
$100,000
Central American Property Search
Popular Searched for Costa Rican Terms: